Lessons are available at Conwy Golf Club with Head Professional Andrew Blake.
I run New to Golf schemes at surrounding clubs as well as here at Conwy, along with introducing golf to local schools and running popular coaching sessions for juniors on Saturday mornings.
I also coach the Caernarfonshire & Anglesey County Junior Squad, coach a number of Men's Squad County players as well as a current Welsh International Player.
Coaching is available on any aspect of your game using our extensive outdoor practice facilities or indoors utilising the GC2 alongside the video coaching system.

Indoor Coaching and Club Fitting Room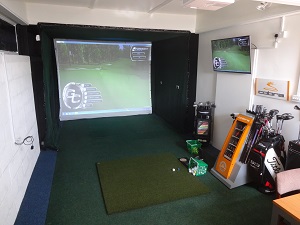 This virtual simulator will give you the chance to play one of the most famous courses in the UK - The Brabazon. You simply hit the ball at the screen (pictured below) and you will get feedback on your ball flight, spin rate and distance.
Within the Studio we have a multi-camera video coaching system & software by Gasp Systems. The system allows us to capture and analyse the golf swing in great detail to help you get the best from your lessons.
Coaching Sessions start from £25 for a 30 minute session and £40 for a 60 minute lesson
Using the Foresight Sports GC2 Launch Monitor we are able to fit for Callaway, Cobra, Titleist, and PING Golf Clubs with visual feedback on the simulator projection screen. The ball flight data can then be analysed to select the best suited loft, lie, length, and shaft flex for your game.
Custom Fitting Sessions are again £25 for 30 minutes and £40 for 60 minutes*
Please click here to book your custom fitting session.
*A full refund of the fitting session fee will be made on all custom club orders placed within 10 days of fitting session.
For further information on lessons, or to book your lesson, please contact the proshop on 01492 593225 or click here.